Cat Smits Company focusses on multiform, visual total-theatre with recurring creative elements like puppetry, physical play, text, dance, shadow play, music and video. With their multi-layered, poignant themes, CSC's performances always appeal to the imagination. Audiences are transported to a 'fantastical' world, where everything is possible. Powerful in their simplicity and magical in their imagination. CSC's performances move people and are topical and thought-provoking.
Dis Order – premiere oktober 2023
A co-production with Fossekleiva Kultursenter. In collaboration with psychologist Marlies Rekkers and documentary maker Sunny Bergman.
A dark and poetic tale and an intimate documentary in one.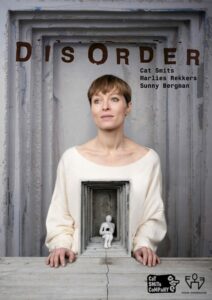 Dis Order encapsulates the delicate visual style of Cat Smits Company in collaboration with award winning documentary maker Sunny Bergman and psychologist Marlies Rekkers.
A young woman Mia, (played by Cat Smits) meets an enchanting friend 'Anna' (embodied by a puppet) who helps her to shield herself from her memories and the demands of everyday life. However, as time passes, the shield becomes a wall, and the safe place that Anna helped create becomes a prison. Once Anna has a foot in the door, she transforms into a possessive and toxic foe rather than a friend. Mia has to find a way out of the suffocating grip Anna has on her. There seems no way out, until she realizes that she herself is Anna.
Mia is confronted with her ambivalence towards a dark side within herself, and a desire that lifts her out of everyday reality. Is really she willing to let Anna go?
Dis Order is a theater piece about eating disorders and is partly autobiographical, based on the diaries of Smits as well as on the scientific research of Marlies Rekkers, who is currently writing her PhD on the topic and was Smits's psychologist 15 years ago. With magical puppetry, dance and performance they transform this sensitive topic in a dark and poetic tale. The documentary invites the audience into the research and personal experience of the makers. The film will be spun through the performance and tilt it with a relentless agility into the here and now.
Credits: Director, performance, puppets – Cat Smits,  PhD candidate, psychologist and psychomotor therapist – Marlies Rekkers, Documentary maker – Sunny Bergman, Set design, costume – Elze van den Akker, Video designer, camera  – Thomas Brand, Text  – Christine Otten and Cat Smits, Scientific dramaturg – Dr. Maja Hertoghs, Composer  – Wim Selles, Light design  – Mark Verhoef, Technical design- Jan Sol, Final direction  – Frances Sanders, Understudy, directors assistant – Lisa Kasman, Producer – Barbara Reijs, Financial directors – Giulia Casarola, Onno Ephraim
special thanks to: Jane McDonald, Noor Courtens, Anne Dronkers
Bookings: Giulia@catsmitscompany.com / post@fossekleiva.no
Techical information: techniek@catsmitscompany.com
A co-production with Figurteatret i Norland.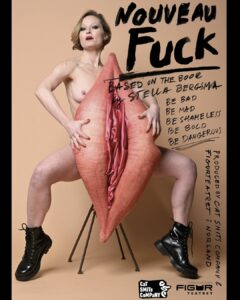 When do women become truly dangerous? When they cease to please. When they throw away all ties and own their Nouveau Fuck style. Nouveau Fuck is a movement, a lifestyle, a way of being, seeing and perceiving. Side by side with famous rebels from literature and art, such as Erica Young, Elizabeth Wurtzel, Mona Eltahawy and Valerie Solanas, Stella Bergsma writes about shame, anger, indignation, being yourself and being accepted or not. How can you make sure you're inescapable as a woman? And unwavering? Nouveau Fuck is a manifesto about self-determination and putting your will into words.
The hardcore, visual and daring puppet theater performance Nouveau Fuck is based on the book of the same title, written by Dutch literature and TV's enfant terrible, Stella Bergsma. Directed by Cat Smits and performed by Meike van den Akker and Cat Smits.
Credits:
Text: Stella Bergsma, Director: Cat Smits, Puppet makers: Cat Smits, Meike van den Akker, Scenography and costumes: Elze van den Akker, Video: Thomas Brand, Final direction: Duda Paiva, Dramaturg: dr. Maja Hertoghs, Composer: Wim Selles, Lighting design: Mark Verhoef, Technique: Jan Sol.
Bookings: Giulia@catsmitscompany.com / annkol1@nfk.no
Techical information: techniek@catsmitscompany.com
Borders is about the power of the state, protecting some and excluding others.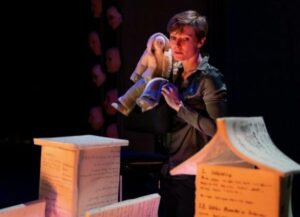 This power cannot exist without its executors. Andy, who works as a junior employee at the Immigration and Naturalisation Service (IND), is such an executor. The performance begins with Andy's first case: a man, a homosexual of about Andy's age, maybe a little older, who lost his passport. The performance shows the decision process that will decide this man's future.
In asylum procedures, big and possibly disastrous, life-altering decisions are made by very ordinary people, who struggle with their feelings and their duty. This struggle is made tangible through images, text and music. The performance is based on Dr Maja Hertoghs' thesis and the testimonies of informants she collected during her field research on the Dutch asylum procedure. These have been made into fiction by Christine Otten.
Prize for best acting/puppetry at festival: A human is a puppet too, Warsaw 2021
Bookings: Giulia@catsmitscompany.com
Techical information: techniek@catsmitscompany.com
Nothing to lose ('21-'22)
Nothing to lose is a co-production with Van der Vlugt & Co. and Foundation Granate.
The young girl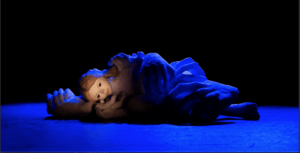 Nafiss is born in Isfahan, Iran. Her life starts promising, but that soon changes. At the age of twelve she is forced to become an adult. The revolution takes place, followed by a war that continues for eight years. Nafiss decides to flee. A long journey begins. Her memories she keeps only in her poems. 'Leaving is a gamble that dangles on a string of fear'
Following her poems we travel though time with Nafiss. The poems are translated in poetic, frightening, absurd, lonely and hopeful images and music. We travel past a pomegranate tree that blooms and disappears again. We see how dreams turn into nightmares and hear how the music pulls this little girl into the pool of maturity. We create a musical garden of memories, manipulated by performer/puppeteer Cat Smits, with live music by composer/saxophonist Floris van der Vlugt and live poetry by Nafiss Nia herself. In the end the young Nafiss finds herself looking in the eyes of her adult self. Did she really have nothing to lose?
Sail (NL: 'Zeil') is a solo performance made by Cat Smits as a co-production of PLAY Productions and Duda Paiva Company.
A young woman sails away. Away from her hectic life, from rules, routines, politics and worries. With the boat as her sole possession, she sets out to explore a wide, blue world, filled with beauty. Here she is on her own, with and against the elements. The sea turns out to be a powerful goddess with unexpected quirks. Will this skipper ever return? 'Sail' is about escaping yourself and confronting your own mortality, regrets and dreams once that escape has been set in motion.
Audience prize at festival: A puppet is a human too, Warsaw 2021