Cat Smits Company focusses on multiform, visual total-theatre with recurring creative elements like puppetry, physical play, text, dance, shadow play, music and video. With their multi-layered, poignant themes, CSC's performances always appeal to the imagination. Audiences are transported to a 'fantastical' world, where everything is possible. Powerful in their simplicity and magical in their imagination. CSC's performances move people and are topical and thought-provoking.
Nothing to lose: A co-production with Van der Vlugt & Co. and Foundation Granate.
The young girl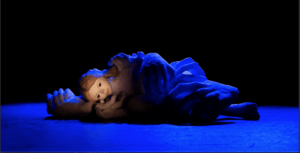 Nafiss is born in Isfahan, Iran. Her life starts promising, but that soon changes. At the age of twelve she is forced to become an adult. The revolution takes place, followed by a war that continues for eight years. Nafiss decides to flee. A long journey begins. Her memories she keeps only in her poems. 'Leaving is a gamble that dangles on a string of fear'
Following her poems we travel though time with Nafiss. The poems are translated in poetic, frightening, absurd, lonely and hopeful images and music. We travel past a pomegranate tree that blooms and disappears again. We see how dreams turn into nightmares and hear how the music pulls this little girl into the pool of maturity. We create a musical garden of memories, manipulated by performer/puppeteer Cat Smits, with live music by composer/saxophonist Floris van der Vlugt and live poetry by Nafiss Nia herself. In the end the young Nafiss finds herself looking in the eyes of her adult self. Did she really have nothing to lose?
Borders: (NL:'Grenzen') is about the power of the state, protecting some and excluding others.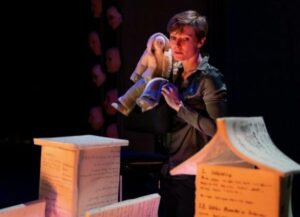 This power cannot exist without its executors. Andy, who works as a junior employee at the Immigration and Naturalisation Service (IND), is such an executor. The performance begins with Andy's first case: a man, a homosexual of about Andy's age, maybe a little older, who lost his passport. The performance shows the decision process that will decide this man's future.
In asylum procedures, big and possibly disastrous, life-altering decisions are made by very ordinary people, who struggle with their feelings and their duty. This struggle is made tangible through images, text and music. The performance is based on Dr Maja Hertoghs' thesis and the testimonies of informants she collected during her field research on the Dutch asylum procedure. These have been made into fiction by Christine Otten.
Sail – the storm called life
'Sail':  (NL: 'Zeil') is a solo performance made by Cat Smits as a co-production of PLAY Productions and Duda Paiva Company.
A young woman sails away. Away from her hectic life, from rules, routines, politics and worries. With the boat as her sole possession, she sets out to explore a wide, blue world, filled with beauty. Here she is on her own, with and against the elements. The sea turns out to be a powerful goddess with unexpected quirks. Will this skipper ever return? 'Sail' is about escaping yourself and confronting your own mortality, regrets and dreams once that escape has been set in motion.