THE PERFORMER, THE OBJECT AND THE SECRET IN BETWEEN
In this short and intense workshop, Yael Rasooly invites participants on a creative journey into the universe of object theatre. Participants will explore the dialogue and relationships between the performer/character and "ready-made" objects. They will look for objects that are "loaded" with meaning, either from the use of the object or from its symbolic associations, or objects that contain an emotional load linked to memory and personal history. Exercises and improvisations will be carried out in groups, also touching on the theme of individual creation as a starting point for future development. The body will be used in relation to objects and their manipulation, as well as the voice, both in speaking and singing. Above all, the workshop aims to immerse participants in the process of creation itself, providing tools for individual and group work. To enter the inner space of invention and playfulness, passing through the artistic jam, improvising, working quickly, with increased sensitivity and with pleasure.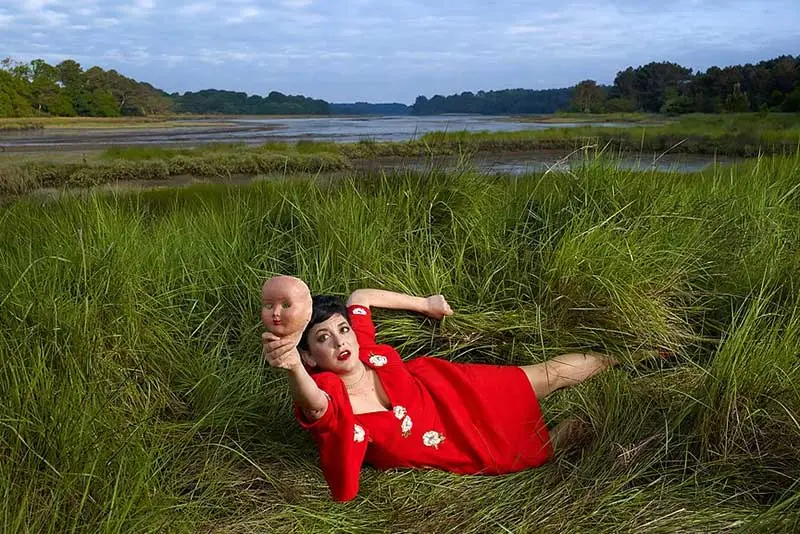 Yael Rasooly is a visual theatre director, actress, singer, and puppeteer.
She was born in Jerusalem in 1983 and first trained in classical piano and singing before studying theatre in London at Central Saint Martin. Her unique theatrical language, which she began to develop during her time at the School of Visual Theatre in Jerusalem, is based on a multi-disciplinary approach, where all the elements of the staging have equal importance in the narrative.
The relationship between the objects/materials and the performer are at the heart of her work, as well as the choices of scenography, sound, and music. Her visual universe makes what is usually silent heard, inviting the audience to travel into what is unspoken in our society.
Examples of her creations include Paper Cut, a solo performance that received numerous awards; The House by the Lake, a musical cabaret for actresses, dolls, and objects, describing the story of three sisters in hiding during the Second World War; Bon Voyage, a co-production with the Festival Mondial des Théâtres de Marionnettes of Charleville-Mézières. Her latest creation, Un silence parfait, was presented for the first time at the 2021 Charleville Festival – it is the second part of a trilogy on violence against women and children.
Her creations have been performed in hundreds of festivals and theatres in more than 30 countries, have received numerous international awards (Grand Prix at the International Festival of Solo puppeteers (Lodz), the Excellence award for solo performance at the NYC Fringe Festival and the Diploma of Excellence from U.N.I.M.A) and have been received by an enthusiastic press (Télérama, The Guardian and the NY TIMES).
Having developed a growing taste for passing her experience and creative approach on to others, Yael Rasooly has led workshops and master classes in many institutions around the world. Her teaching method, combining stage direction, object theatre, puppetry and vocal technique, is based on encouraging the participant(s) and aims to empower them in their individual and personal creation.
She has been invited to teach at institutions such as Trinity College, University of Connecticut, The Eugene O'neill Theatre Centre, New York University, Atlanta Centre for Puppetry Arts, UQAM University, Nuku Theatre Tallinn, UQAM Montreal (Canada), Aria en Corse -Association des Rencontres Internationales Artistiques- (France), and Théâtre Odradek (France), FIAMS Quebec (Canada), Academy of Theatre Arts in Wrocław (Poland) and many others.
Number of participants: 5 to 12 people
Public concerned: Performing and visual arts professionals and students
Directors, puppeteers, actors, dancers, circus artists, singers, musicians, visual artists… From Rotterdam and beyond.
Prerequisites: Professional experience in the performing arts and committed attendance for the full 2 days of the course
Languages spoken: English
Cost of the course: €50
Deadline for applications : 25 April 2023
Hosts: WORM, VOX Muziektheater and Cat Smits Company
Dates:
9 May 2023 10:00 – 17:00
10 May 2023 10:00 – 17:00
10 May 19:00 – presentation